Food Establishment Rating System
NOTICE: Effective February 17, 2023, the Naugatuck Valley Health District food rating program is paused due to the CT State Department of Public Health and Secretary of State adopting the FDA Food Code. We are currently assessing the possibility of continuing the program in the future and will provide announcements as they become available.
ARCHIVE INFORMATION AS OF FEBRUARY 17, 2023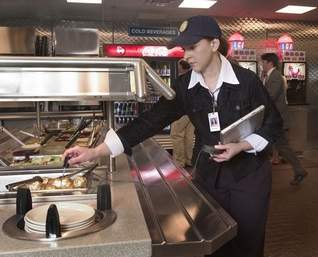 The Naugatuck Valley Health District (NVHD) has instituted a food establishment "Rating" program designed to provide the public with information about the sanitary conditions observed in the establishment. Ratings are provided by the sanitarian to the food service establishment with the inspection report during each inspection and are based on the absence/presence of "Risk Factor and Critical Violations" that are likely to cause food borne illness.
The Ratings apply to most facilities that prepare hot "potentially hazardous" foods. Ratings are not given to Seasonal and Temporary Food Service establishments, schools, nursing and long-term care facilities, or to establishments operated by government or non-profit organizations.
If you would like more detailed information, inspection reports are available for review at the NVHD office 98 Bank St. Seymour during normal business hours Monday-Thursday 8:00AM-4:00PM and Fridays 8:00AM-1:00PM.
Find out more about