Rabies
Rabies is a preventable viral disease affecting the central nervous system. It is transmitted from infected mammals to man and is invariably fatal once symptoms appear.  The NVHD plays a role in rabies prevention and control in the Valley. Good rabies prevention and control activities include the prevention of rabies in humans and domestic animals. We work closely with each town's animal control officer (ACO) to react to domestic animal exposures to rabies and assess the potential for human exposure to rabies.
Report all domestic animal bites or scratches, domestic animal encounters with wild animals, or suspicious acting wild animals to the ACO.
Report all potential human rabies exposures to the Naugatuck Valley Health District and your personal physician.
Local Animal Control Offices:
NVHD offers FREE testing of wild/domestic animals when there is confirmed human exposure to a potentially rabid animal.  Call us for more details.
For more information about rabies, click here for the State of CT website and contact information for specific epidemiology questions.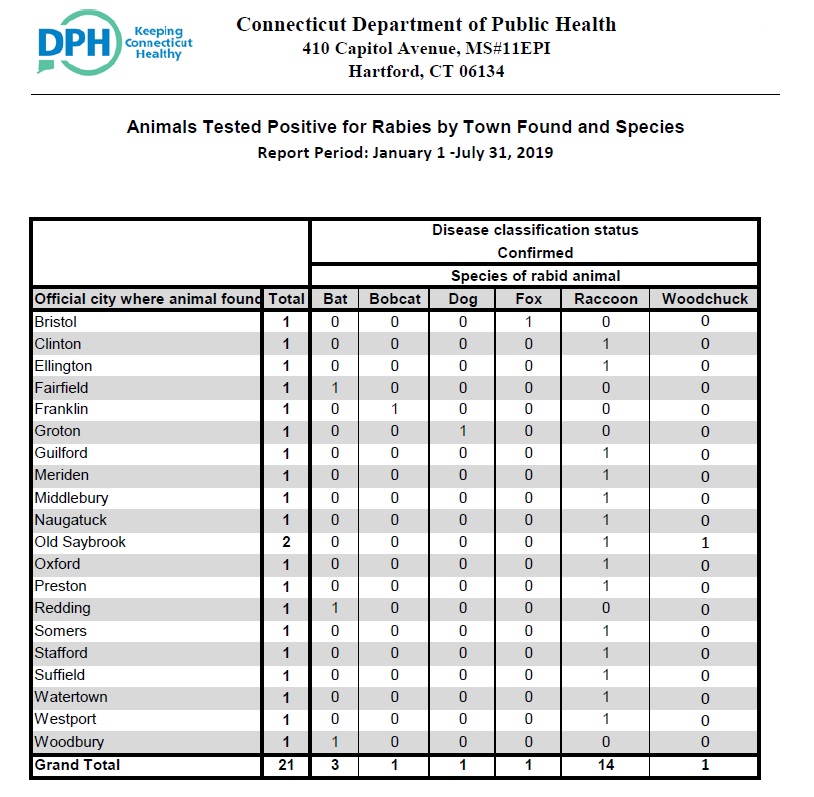 Information below is copied from the Centers for Disease Control & Prevention
Transmission
Rabies virus is transmitted through direct contact (such as through broken skin or mucous membranes in the eyes, nose, or mouth) with saliva or brain/nervous system tissue from an infected animal.
People usually get rabies from the bite of a rabid animal. It is also possible, but rare, for people to get rabies from non-bite exposures, which can include scratches, abrasions, or open wounds that are exposed to saliva or other potentially infectious material from a rabid animal. Other types of contact, such as petting a rabid animal or contact with the blood, urine or feces of a rabid animal, are not associated with risk for infection and are not considered to be exposures of concern for rabies.
Rabies virus becomes noninfectious when it dries out and when it is exposed to sunlight.
Signs and Symptoms
The first symptoms of rabies may be very similar to those of the flu including general weakness or discomfort, fever, or headache. These symptoms may last for days.
There may be also discomfort or a prickling or itching sensation at the site of the bite, progressing within days to acute symptoms of cerebral dysfunction, anxiety, confusion, and agitation. As the disease progresses, the person may experience delirium, abnormal behavior, hallucinations, hydrophobia (fear of water), and insomnia. The acute period of disease typically ends after 2 to 10 days. Once clinical signs of rabies appear, the disease is nearly always fatal, and treatment is typically supportive. To date less than 20 cases of human survival from clinical rabies have been documented, and only a few survivors had no history of pre- or postexposure prophylaxis.
The signs, symptoms, and outcome of rabies in animals can vary, but are often similar to those in humans, including early nonspecific symptoms, acute neurologic symptoms, and ultimately death.
When Should I Seek Medical Attention?
If you've been in contact with any wildlife or unfamiliar animals, particularly if you've been bitten or scratched, you should talk with a healthcare or public health professional to determine your risk for rabies or other illnesses. Wash any wounds immediately with soap and water and then plan to see a healthcare provider. (It's important to know that, unlike most other animals that carry rabies, many types of bats have very small teeth which may leave marks that disappear quickly. If you are unsure, seek medical advice to be safe.)
Remember that rabies is a medical urgency but not an emergency. Decisions should not be delayed.
See your doctor for attention for any trauma due to an animal attack before considering the need for rabies vaccination. After any wounds have been addressed, your doctor – possibly in consultation with your state or local health department – will help you decide if you need treatment known as rabies postexposure prophylaxis (PEP). Decisions to start PEP will be based on your type of exposure, the animal you were exposed to, whether the animal is available for testing, and laboratory and surveillance information for the geographic area where the exposure occurred.
In the United States, PEP consists of a regimen of one dose of immune globulin and four doses of rabies vaccine over a 14-day period. Rabies immune globulin and the first dose of rabies vaccine should be given by your health care provider as soon as possible after exposure. Current vaccines are relatively painless and are given in your arm like a flu or tetanus vaccine; rabies vaccines are not given in the stomach.
Resources