Emergency Preparedness
In today's environment, public health emergencies, whether natural or man-made, may threaten the health and safety of the citizens within the jurisdiction of the NVHD (Ansonia, Beacon Falls, Derby, Naugatuck, Seymour and Shelton). The goal of this agency during a public health emergency is to minimize the impact of these adverse events on the population it serves.
Detection, response, and disease control of an infectious disease outbreak is most likely to occur at the local or regional level. While a larger event will require public health leadership and involvement at the local level, to effectively coordinate all response efforts, it will be necessary to coordinate with the state and federal government including, but not limited to the Connecticut Department of Public Health and the Connecticut Division of Emergency Management and Homeland Security.
NVHD continues to increase its capacity to respond to emergencies thanks to its dedicated staff, continuous review and exercising of emergency response plans, and a committed volunteer force. The Emergency Preparedness Division works with police, fire, and other authorities to develop functional plans to use during emergency response.
NVHD has developed and maintains the following emergency response plans:
Public Health Emergency Response Plan

Continuity of Operations Plan
Communications and Health Alert Network Plan
Crisis and Emergency Risk Communications Plan
Mass Dispensing & Mass Vaccination Plan
Quarantine and Isolation Plan
Respiratory Protection Program Plan
Staff and Volunteer Multi-Year Training & Exercise Plan
Behavioral Health
Maternal & Child Health Emergency Planning
Environmental Surety Plan

Food Safety Resources
Flood and Storm Water

Emerging Infectious Diseases (EID) & Incident Specific Response Resources
Anthrax

Pandemic Influenza
Orthpoxviruses
Coronaviruses
Measles
Tuberculosis
Ebola Virus Disease
Vector-Borne Diseases

Vector – Mosquitoes
Vector – Ticks
Vector – Fleas

Environmental Surety Plan

Food Safety Resources
Flood and Storm Water
The division also continues to recruit and train individuals to join the volunteer force, the Naugatuck Valley Medical Reserve Corps, and serves as an educational resource for personal and community preparedness.
We are currently seeking volunteers 18 and older with medical and non-medical backgrounds.
Following Tropical Storm Irene (August 2011) and Snowstorm Alfred that soon followed (October 2011), the decision was made to establish a Medical Reserve Corps unit in Naugatuck Valley to support emergency response efforts and enhance community resiliency during a disaster. The Naugatuck Valley Health District partnered with Echo Hose Ambulance to create the Naugatuck Valley Medical Reserve Corps (NVMRC) unit to support response efforts for the towns of Ansonia, Beacon Falls, Derby, Naugatuck, Seymour and Shelton.
Don't let the name fool you! No medical experience is required.
You will be provided all the training you need!
Visit the Naugatuck Valley Medical Reserve Corps website for more information and how to apply!
Emergency Preparedness Resources:
Visit these Websites
Downloads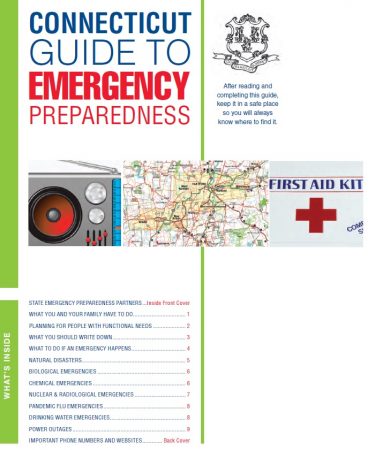 The Connecticut Guide to Emergency Preparedness is available in these additional languages:
Spanish – Español | Portuguese – Português | Chinese – 中文
French – Français | Haitian Creole – Kreyòl | Italian- Italiano
Polish- Polski | Russian – русский | Vietnamese – Tiếng Việt
Senior Preparedness
Prepare For Emergencies Now Information for Seniors
People with Disabilities, Others with Access and Functional Needs
Preparing Makes Sense for People with Disabilities Brochure
Preparing Makes Sense for People with Disabilities – Large Print Brochure
Preparedness Video for People Who Are Deaf and Hard of Hearing (PDF Script)
Pet Preparedness
Preparing makes Sense for Pet Owners