---
Valley Health Assessment Survey
Griffin Health Services and the Naugatuck Valley Health District are working with people throughout the Valley to develop our next Community Health Improvement Plan. As part of this work, it is essential to hear from you and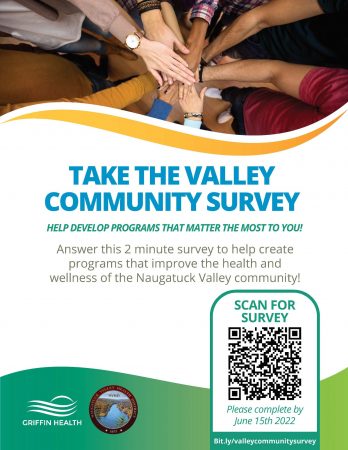 other community members aged 18 or older about what matters most to you right now.
Data from the Community Health Needs Assessment, which is written and released every 3 years, are used to identify community needs and priorities. Based on our findings, we develop interventions, programs, and services to help address these priorities.
This survey is anonymous and confidential. Please be as honest as possible. There are no right or wrong answers.
Online access: https://bit.ly/3sLTYHp.
Please respond by June 15. Thank you for your generous gifts of time and input into this process!
If you are not familiar with these documents and would like to learn more about them or review the most recent Community Health Assessment, the 2019 Valley Index, or the 2019-2021 Community Health Improvement Plan, please visit www.nvhd.org/cha-chip. These documents are relevant to Ansonia, Beacon Falls, Derby, Naugatuck, Seymour, Shelton and Oxford.
---
Go Back