---
NVHD Hosts 1st Annual Health & Safety Fair
Press Release
Date:            September 5, 2019
Contact:        Jamie Luckhardt, BS, CHES
Phone:          (203) 881-3255
Naugatuck Valley Health District Hosts First Annual Health and Safety Fair
The Naugatuck Valley Health District, in partnership with Echo Hose Ambulance Company, is hosting their first annual Health and Safety Fair on October 5th, 2019.  The fair will be held at the Echo Hose Community Training Center, located at 430 Coram Avenue in Shelton, CT from 9:00 AM – 12:00 PM.
The free health and safety fair is family friendly and open to all Valley residents.  Services provided at the fair will include flu shots, blood pressure screenings, multiple free community trainings such as: Narcan, Hidden in Plain Sight, Hands-Only CPR and Stop the Bleed.  We also will provide children activities such as arts and crafts and an opportunity to meet the local Fire Department and "Touch a Truck".  Numerous local organizations will be at the fair to help raise awareness of resources that are available to community members and promote health and safety for all.
Individuals who receive a flu shot will be entered in a raffle to win a FitBit Alta HR!  There is no copay for flu shots with accepted health insurances. The Health District accepts the following insurances: Aetna, Anthem Blue Cross/Blue Shield, Cigna, ConnectiCare, and Medicare Part B.  We are not able to accept Medicare Advantage plans, Oxford or United HealthCare. Those who are eligible should bring the proper insurance cards. Cash, debit or credit card payment is accepted for those who are uninsured. All clinic attendees should wear loose fitting clothes with short sleeves.
For more information, please contact Jamie at the Naugatuck Valley Health District by calling 203-881-3255 or email jluckhardt@nvhd.org.
~~~END~~~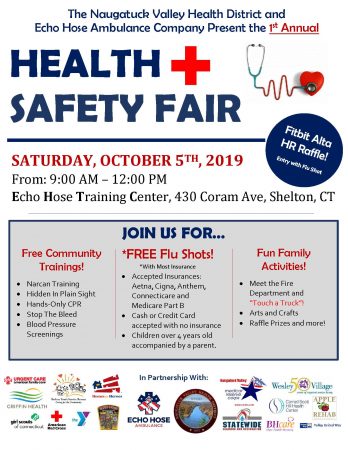 Schedule of Free Training Events – Sign Up Here to Save Your Seat!
Hidden in Plain Sight Training – An awareness program for parents and other adults that helps uncover signs of trouble
Flu Shots – Free with accepted insurance! Chance to win a Fitbit!
Stop the Bleed Training – Educate and empower people to respond to emergencies and what to do until EMS arrives.
Narcan Training – Learn signs/symptoms of overdose, how to use Narcan, Good Samaritan Law, and support info.
---
Go Back