---
How To: Report Positive Home Test Result
February 23, 2022
Press Release
Contact: Lisa Trupp, Lead Contact Tracer
Phone: (203) 881-3255 ext. 116
NAUGATUCK VALLEY HEALTH DISTRICT URGES RESIDENTS TO
UTILIZE COVID-19 HOME TEST SELF-REPORTING TOOL
With COVID-19 Home Tests approved under the Emergency Use Authorization and easily accessible to our community, many COVID-19 test results are no longer being reported. When an individual gets tested at their doctor's office or a test site, the results are reported to the Department of Public Health and Naugatuck Valley Health District. Due to home tests not being reported to the state and local health departments, we are now noticing a difference in our data and case rates, not only within the state of Connecticut but also in the Valley.
As we transition into Home Tests being potentially the primary source of testing for COVID-19, Naugatuck Valley Health District has created an online method of confidential, individual case reporting specifically for the Valley community: "NVHD Positive COVID-19 Home Test Self-Reporting Tool". This reporting tool has been created for residents to voluntarily report a positive result from an FDA-approved At-Home COVID-19 Antigen Rapid Test. Participation in this survey is confidential and voluntary. We ask that you ONLY utilize this method if you, or your child (minor under 18 years old), have tested positive using a home test.
We strongly encourage our residents to participate by reporting positive at-home results using this link: https://forms.office.com/r/HRKcY2JkVT. These confidential reports will help NVHD establish a more accurate understanding of COVID-19 case rates within the Valley. The ultimate goal of this effort is to help you; the more data we have on the positivity rate, the more we are able to provide the necessary guidance, support, and education to help our residents slow the spread of COVID-19 in our community.
If you have any questions regarding the COVID-19 Home Test Self-Reporting Tool, please call the Naugatuck Valley Health District at (203) 881-3255 ext. 116. If you tested positive for COVID-19 and are in need of guidance, we ask that you please take advantage of the reporting tool and request that an NVHD Contact Tracer calls you in order to provide further assistance.  If you have general COVID-19 questions, use ext. 116/118 or call our hotline 475-675-5733 for after-hours notifications. Please be aware, we are doing our best to contact everyone and ask that you give us 1-2 business days to contact you or return your call.
Sincerely,
Naugatuck Valley Health District Contact Tracing Team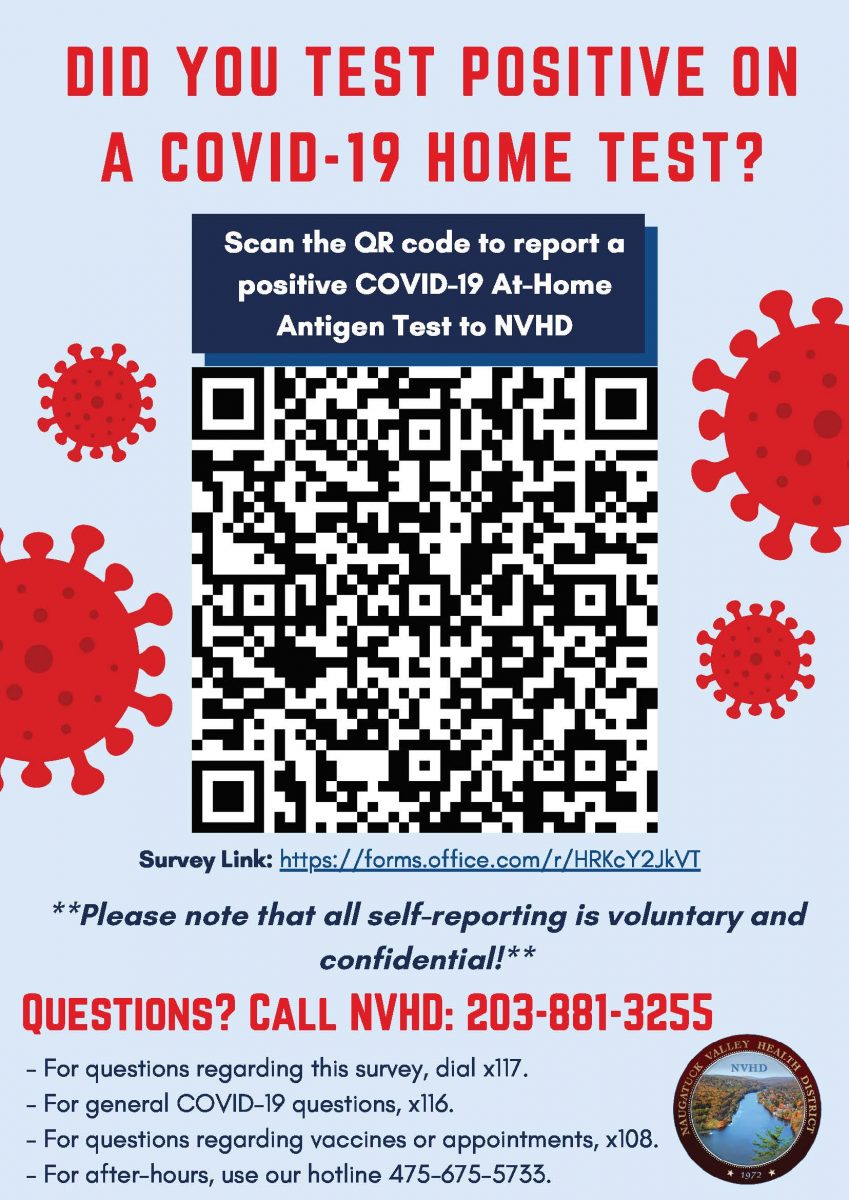 ---
Go Back