---
Sesame = 9th major food allergen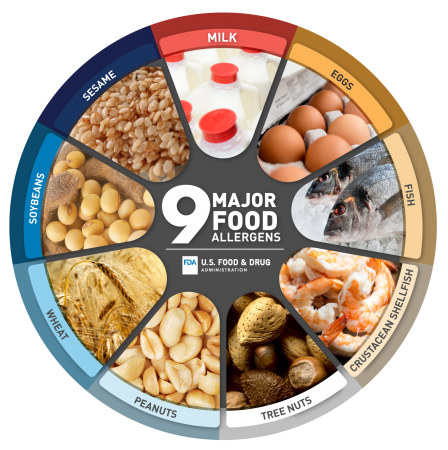 A message from the United States Food and Drug Administration (FDA):
"Congress passed the Food Allergen Labeling and Consumer Protection Act of 2004 (FALCPA). This law identified eight foods as major food allergens: milk, eggs, fish, Crustacean shellfish, tree nuts, peanuts, wheat, and soybeans.
On April 23, 2021, the Food Allergy Safety, Treatment, Education, and Research (FASTER) Act was signed into law, declaring sesame as the 9th major food allergen recognized by the United States. The change was effective on January 1, 2023. All FDA requirements applicable to major food allergens, including labeling and manufacturing requirements, apply to sesame as of January 1, 2023. Products already in interstate commerce—for example, products that are on retail shelves, before January 1, 2023—do not need to be removed from the marketplace or relabeled. So, consumers should be aware that some products may not carry allergen labeling for sesame right away. During the transition period, the FDA recommends consumers check with the manufacturer or distributor identified on the food product if not sure whether a food product contains, or potentially contains, sesame, Watch our video for more information about the FASTER ActExternal Link Disclaimer. The video includes basic information about the FASTER Act and helps answer frequently asked questions the FDA has received from the food industry and other stakeholders.
Contact the CFSAN Food & Cosmetic Information Center (FCIC) for questions about food allergen requirements.
At the time of FALCPA's passage, the eight major allergens accounted for 90 percent of food allergies and serious allergic reactions in the U.S. FALCPA requires that foods or ingredients that contain a "major food allergen" be specifically labeled with the name of the allergen source. Congress passed this law to make it easier for consumers who are allergic to foods and their caregivers to identify and avoid foods that contain major food allergens. The FDA enforces the provisions of this law in most packaged food products. This includes dietary supplements but does not include meat, poultry, and egg products (which are regulated by the U.S. Department of Agriculture); alcoholic beverages subject to Alcohol and Tobacco Tax and Trade Bureau labeling regulations; raw agricultural commodities; highly refined oils; drugs; cosmetics; and most foods sold at retail or food service establishments that are not pre-packaged with a label.
Consumers with allergies should be aware of how the major allergens are defined for the purpose of allergen labeling.  For example, FDA interprets "milk" as milk from the domesticated cow; however, the proteins in cow's milk are very similar to those found in milk from goats, sheep, deer and buffalo. Consumers with egg allergies should know that for the purpose of allergen labeling, FDA interprets "eggs" as eggs from chickens; however, the proteins in chicken eggs are very similar to those found in eggs from ducks, geese, quail and other birds.  People with milk or egg allergies should consult their health care provider before consuming milk or eggs from other animals.
At this time, the FDA has not established a threshold level for any allergens.  A threshold is a value below which it is unlikely that a food allergic individual would experience an adverse effect."
For more information, please visit the FDA website: https://www.fda.gov/food/food-labeling-nutrition/food-allergies?fbclid=IwAR3l8h2xFDEEra89dgJG7CNoNIGk0Bku6NBQO8JZ7_AJxXjyrSn8vHZQovM
---
Go Back