Environmental Health
The goal of the Environmental Health Division is to prevent illness, disability, or death from the interactions between people and the environment. Our sanitarians perform health inspections, investigate and resolve complaints about health hazards, and educate the public. The NVHD is responsible in partnership with state and federal agencies, for enforcement of the State Public Health Code, relevant State Statutes and Regulations, and Local Health Ordinances. NVHD responds to public health emergencies on a 24-hour basis.
Daycare and Schools
The NVHD provides day care inspections for state licensing and investigates complaints of sanitation and safety in schools.
Food Service
Licenses and inspects restaurant, markets, caterers, private clubs, itinerant vendors, school cafeterias, group homes, day care centers, nursing homes and temporary events. Reviews plans for proposed food service establishments and provides a food safety rating system for public awareness.
Housing Code Enforcement
NVHD  responds to housing code health and safety violations filed by residents in all towns within our district. Investigations may result in the issuance of violation orders and/or litigation.
Lead Inspection and Abatement
Conducts environmental investigations of premises where children with an elevated blood lead level have been found. Paint, dust, soil, and water samples are sent to the state laboratory for analysis. The property owner is required by law to abate lead from premises with toxic levels.
Private Wells
Approves applications for permits and inspects all private well construction sites.  Works with homeowners, construction industry and other government agencies to resolve water quality problems and to protect the water supply at the local level.
Public Pools
Issues permits and inspects all public pools in the district for safety violations and sanitation measures that help control the spread of water-borne disease.
Body Care Salon
Issues permits and inspects the sanitary conditions in all hair, nail, tanning and massage salons. Reviews plans for proposed body care establishments and provides nail technician training. Also issues permits  for temporary events.
Body Care Code – Effective 7/1/2020

Anyone performing esthetician services must obtain a license with the State of Connecticut. Click here for licensing requirements.
Effective 7/1/2020, eyelash technicians must be licensed. Eyelash technician means a person, who for compensation performs individual eyelash extensions, eyelash lifts or perms and eyelash color tints.
Guidance from the Environmental Protection Agency (EPA) that provides information for salon owners, operators, and workers about disinfecting pedicure foot spa equipment and is available in:    English  /  Spanish  /  Korean  /  Vietnamese  /  Nepali
Tattoo & Body Piercing
Issues permits and inspects the sanitary conditions and operations of tattoo and body piercing salons. Reviews plans for proposed establishments and issues permits for temporary events.
Septic and Sewage
Reviews plans, issue permits and supervise the construction or repair of subsurface sewage disposal systems. Approves applications for the change of use, addition of accessory structures and additions to buildings served by a private subsurface sewage disposal system. Also investigates complaints of failed systems and issues orders for corrective action where necessary.
Technical Standards appendix D
Ticks
For information on ticks and tick-borne diseases, please visit our webpage Ticks and Tick-Borne Diseases webpage
Ticks found on humans can be submitted to The Connecticut Agricultural Experiment Station (CAES) for identification and/or testing through the NVHD. CAES will identify all ticks, but only test those that have ingested human blood. Please bring the tick to our office in a sealed bag or container. NVHD will contact you with your results. There is a $5.00 fee per tick or individuals can submit ticks on their own by completing the CAES Tick Submission Form and mailing the tick directly to:
The Connecticut Agricultural Experiment Station
Tick Testing Laboratory
Jenkins-Waggoner Building
123 Huntington Street
New Haven CT, 06511
Preparing the tick:
Do not place the tick on tape.
Ticks should be placed in a crush-proof container, but if one is not available a sealed plastic bag will suffice.
Do not package the tick in glass or in other fragile containers.
Do not package the tick with any objects. This includes paper towels, cotton swabs, plant matter, bandages, or any other materials.
Do not place the tick in any solution. This includes substances like water and alcohol. All ticks should be submitted dry.
Preparing the envelope:
The crush-proof container housing the tick should be tightly sealed and packaged in a padded envelope.
If a padded envelope is not available, a small sheet of bubble wrap can be added to a regular envelope to help protect the tick from being damaged.
Please request the mail carrier to handle the envelope containing tick manually and not through a machine. "Please hand sort" can be written on the envelope to help achieve this.
CAES Tick Submission Form 2022 (Required)
NVHD Ticks and Tick-Borne Diseases Brochure
Are your backyard activities increasing your chances of a tick bite? We need your help with scientific research to figure that out. NVHD has partnered with with Western Connecticut State University Tickborne Disease Prevention Laboratory to conduct a survey among residents that submit ticks for testing or identification. Visit wcsuticklab.com/ticks for more information and to participate.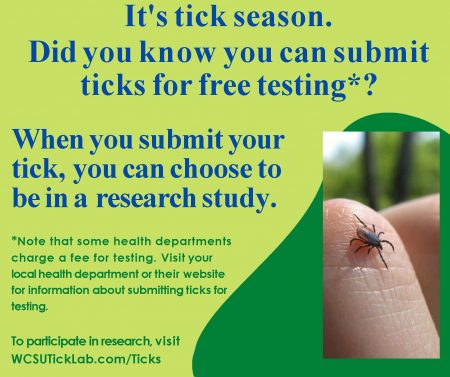 Services Provided
Daycare and Schools
Food Service
Housing Code Enforcement
Lead Inspection and Abatement
Private Wells
Public Pools
Salons
Septic and Sewage
Tattoo and Body Piercing
Ticks
Environmental Health Resources